Chadar Lingshed – Chilling Trek – 15 days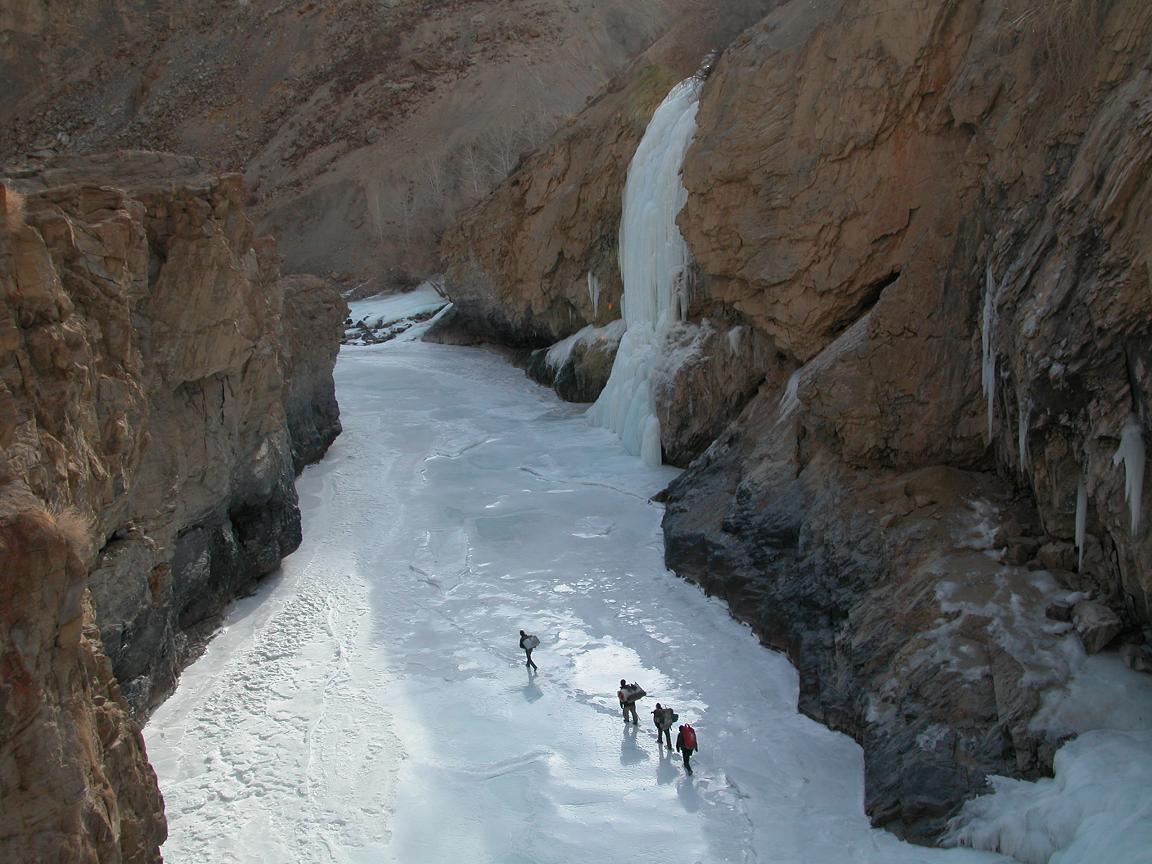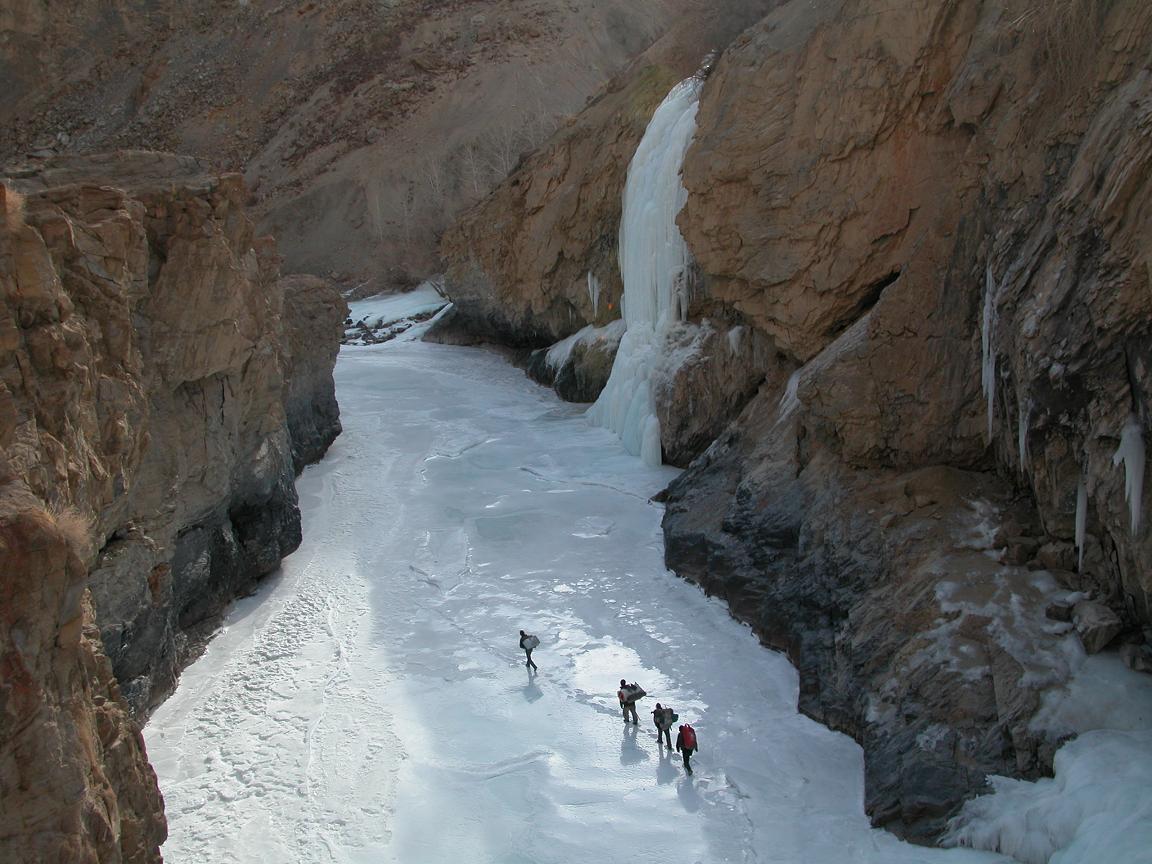 Maximum Elevation: 3850m
Region: Lingshed
Grade : easy to moderate
Duration: 15 days
Minimum number of people : 6
Chadar Lingshed – Chilling Trek
Walking on Frozen river of Zanskar is an ultimate experience for adventure lover.
The traditional name of the trek is "Chadar trek" the frozen sheet, which was only way in and out for Zanskaris in winter when all other ways are closed due to heavy snow fall at high passes.
Therefore, it had been trade route for centuries for Zanskari People.
Now the route is also famous as winter trekking among adventure lovers.
For last several years, we have been organizing this winter trek in three different options with trained local Zanskari potters and our well-experienced guide and staff.
The coldest temperatures may shudder your bodies in the mornings when the temperatures are often at their lowest.
You'll be up at 8AM and we start walking around 9:30AM.
By then the days are typically sunny with blue sky although cold and truly fresh!
Of course, by now you'll be spellbound by your surroundings all over again and so easily will forget the discomforts of cold.
As the sun climbs higher, temperatures become not only tolerable but pleasant and you'll no longer will be preoccupied with weather, enjoying the surroundings with zest
This is a trek into some of the most isolated yet inhabited regions in the Zanskar mountains, most notably the village of Lingshed.
Trekking on ice, the frozen Zanskar River, we average five to seven hours daily at an easy pace but a reasonable degree of physical fitness is needed to sustain walking for nine days during winter conditions.
The trek commences from the village of Chiling located not far from the confluence of Indus and the Zanskar River.
The trek follows the river gorge through a spectacular landscape, a photographer's paradise, offering occasional sighting of wildlife.
Although pleasant on clear, sunny days, the weather conditions can change abruptly, with wind temperatures known to plummet minus 20 to 30 degrees Celsius.
Chiling and Lingshed are the only sizeable villages on this trek, all the rest are names of places and caves along the route.
Day 01.
Early morning flight Delhi to Leh, transfer to hotel and rest.
Day 02.
Morning sightseeing – Shanti Stupa, and Sangkar Gompa; lunch at hotel, afternoon rest.
Day 03.
Leh to Chiling (by private bus or jeeps) along with our porters from Zanskar, 5 hours; visit coppersmithing workshops.
Day 04.
Leh to Chiling (by private bus or jeeps) along with our porters from Zanskar, 5 hours; visit coppersmithing workshops.
Day 05.
Walk on ice of the frozen Zanskar river, Chadar, commences from Chiling, stage one to Zaribago, 5 hours.
Day 06.
Zaribago to Deepyokma 4 hours.
Day 07.
Deepyokma to Nyrakpulu 4 to 5 hours; camp below Nyarak village, ten minutes up along a small stream.
Day 08.
Nyarakpulu to Lingshed, one hour walk on Chadar, then 5 hours steeply up to Lingshed village; stay in private house, relax in a heated room.
Day 09.
Full day rest in Lingshed, one of the most remote villages in Ladakh, visit monastery, school for monks, roam around the village.
Day 10.
Ligshed to Nyarakpulu, 5 hours.
Day 11
Nyarakpulu to Tsomopaldar, 4 hours.
Day 12.
Tsomopaldar to Tilatdo, 5 hours.
Day 13.
Tilatdo to Chiling, and return by jeep to Leh, 5 hours.
Day 14.
Day 15.
Return flight to Delhi; depart from India.
Taking part in the above tours to Ladakh that will take you into altitudes above 4,500 meters/14,000 feet, you should be familiar with the prevention, recognition, and treatment of altitude illness including shortness of breath, restlessness, sleeplessness and headaches as well as other health dangers potentially arising from trekking at high altitude.
Please do note that for some treks we will require proof of your medical fitness, a thorough physical exam and certification from your doctor that you have no general medical problems that could result in any potentially serious medical consequences while on a trek.
Trekking at high altitudes is strenuous and you must be in top physical shape in order to endure up to eight hours of trekking over steep, often rocky terrain as well as snow.
To be able to sustain and hopefully enjoy such a demanding exercise, you need to possess good cardiovascular endurance and muscular strength.
In order to prepare yourself for your trekking tour you should undertake regular aerobic exercise or training that includes jogging, cycling or swimming, exercising 3 -5 times per week for at least six months prior to your trip.