General
Day 1: Acclimitisation At Leh
Day 2: Leh to Rumtse via road. Rumtse to Kyamar camp
Day 3: Kyamar to Tisaling
Day 4: Tisaling to Ponganagu.
Day 5: Ponganagu to Nuruchen
Day 6: Nuruchen to Rachungkharu 
Day 7: Rest Day at Rachungkharu*
Day 8: Rachungkharu to Gyamalhoma via Kyamayaru La and Gyamar La 
Day 9: Gyamalhoma to Karzok via Yarlung Nyau La. (Karzok is next to Tso Moriri lake.)
Day 10: Drive to Leh
Spread over 120 square kilometres, Tso Moriri is the largest high-altitude lake that is entirely within India.
And this Ladakhi wonder is the biggest reward of this trek.
One trudges through seven mountain passes, more than 10 river-crossings and arid, deserted never-ending lands to get there.
Throughout the 10-day trail, trekkers have the company of landscapes that are so outlandish, they don't seem to belong from this world.
It's a starkly beautiful trail that no other trek can replicate.
Time taken: 2-3 hours drive of 79 km, 4 to 5 hours trekking of 9.5 km 

Altitude: 13,772 ft to 15,006 ft 

GPS Coordinates: N 33°37.837, E 078 °45.417 to N 33°33.255, E 077 °50.533

Rumtse is 79 km from Leh.

It takes around 2-3 hours to get there on the Leh-Manali road.

It's a pleasant journey with great views of the Indus Valley and monasteries of Hemis, Thiksey, etc.

Rumtse is a small village.

It lies in Rupshi, which is a valley sandwiched between Zanskar, Tibet and Ladakh. The local monastery near Rumtse, Gya, has as many as 108 stupas and is over 700 years old.

Being in close proximity from where the Changthang plateau begins, it is the base camp for treks to Tso Kar and Tso Moreriri Lake.

Walk down for a kilometre on the Leh-Manali highway from the Rumtse local market.

Take the trail towards your left.

Pass by J&K Tourism lodge and hike alongside the Chhaba Chu stream, which will flow on your left. After 10 minutes, spot a steel bridge.

Cross the bridge with the stream on your left and keep left, along a small plateau.

The dusty trail will eventually take a U-turn as you leave Chhaba Chu and enter Kyamar valley.

This point is a confluence of Kyamar stream and Chhabu Chu.

Leaving behind Chhabu Chu, look for multiple rivulets.

These are small streams and can easily be crossed.

After 20 minutes of level walk, make note of large green marshes on your right, suitable for camping.

Here, cross the stream and take the trail going left.

The walk to Kyamar campsite is easy and over relatively flat terrain.

The altitude gain for the day is roughly 1,224 feet (373 metres) only.

The trail swirls inward along the natural scope of the valley.

A hike of 30 minutes will lead to a change in landscape.

The green marshes give way to gravel.

There is a small gradual ascent over a rocky spur.

After 10 minutes, you will reach the base of this plateau.

From here, observe a 3 way opening of the valley.

Take the widest valley in front of you.

This is the logical trail going to the grazing grounds of Kyamar.

After walking for 30 minutes, the green marshes will re-appear along Kyamar stream.

The river basin remains on your right.

The Changpa nomads are known to camp here during summer.

The trail to Kyamar can also be covered in an SUV.

The Kyamar valley is wide with vast marshlands.

You will be required to cross the stream towards the right and then back to the left side as per the trail in front of you.

The stream-crossing can be negotiated easily.

This section of the valley will take 45-60 minutes to traverse.

Ahead of you, observe the highest mountain with snow on its summit.

The Kyamar grazing grounds are located at the base of this summit.

It will take around 3o minutes to reach the base of this mountain.

From here, one can see the beginning of Kyamar green pasture land.

It is advisable to trek towards the end point of these grounds.

The final section of the trek will take 45-60 minutes.

Look for a suitable camping spot next to the stream, which is on the right side of the trail. Kyamar's grounds are surrounded by beautiful rocky hills on three sides of the valley.
Summary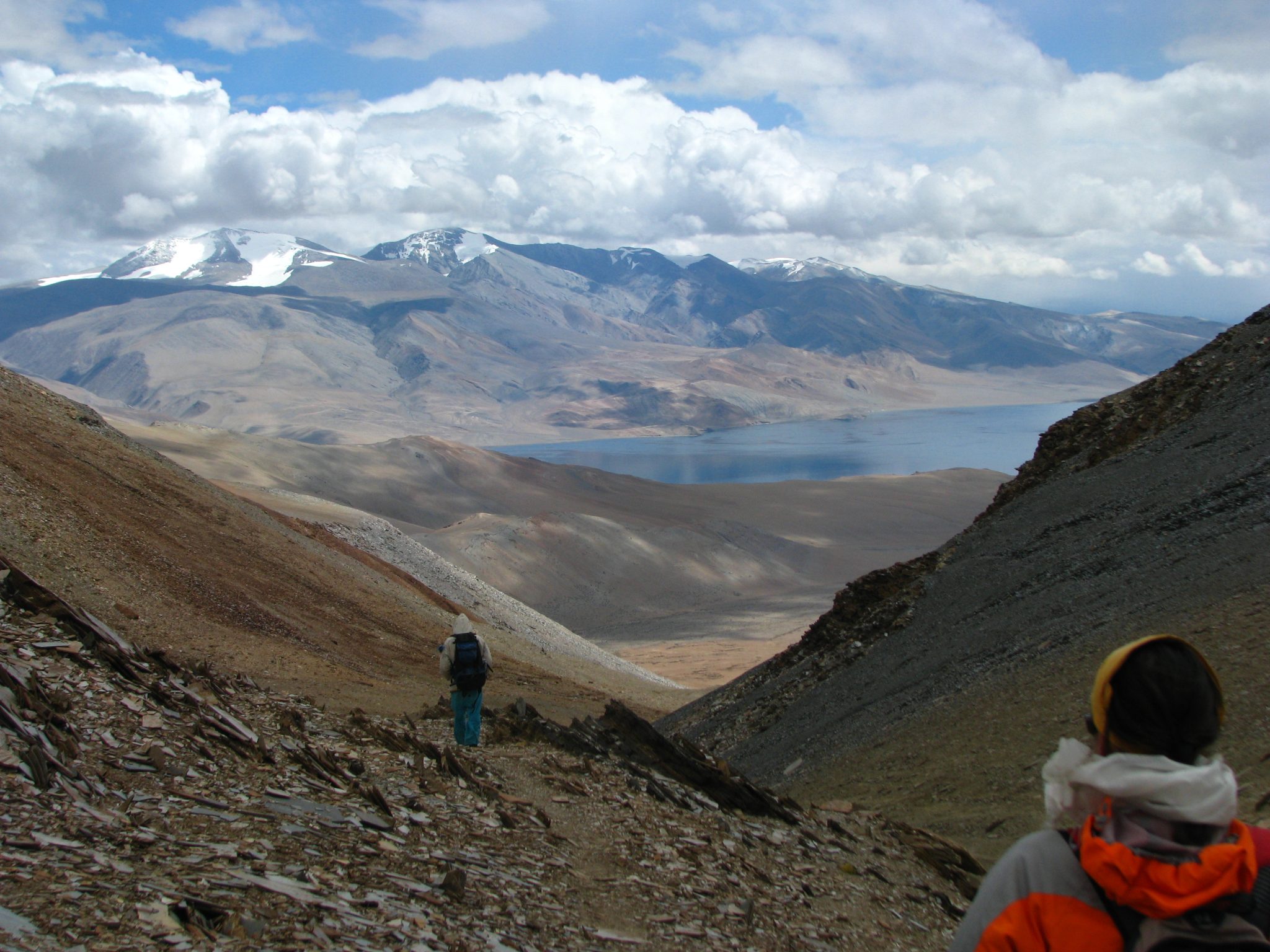 Service Type
Company Name
LIFE on the PLANET LADAKH
,
himis complex, zangsti road
,
Leh
,
Ladakh
-
194101
,
Telephone No.09419684750
Area
Description
Rumtse/Kyamar camp/Tisaling/Ponganagu/Nuruchen/Rachungkharu/Kyamayaru La/Gyamar La /Gyamalhoma/Yarlung Nyau La/Karzok / Tso Moriri lake