General
  Brief itinerary
Day 1 :- Fly to Leh 3500m
Day 2 :- Drive to Tlad Do via Chilling
Day 3 :- Tilad Do to Gyalpo
Day 4 :- Gyalpo camp to Tibb Cave
Day 5 :- Tibb cave to Naerak camp
Day 6 :- Naerak to Tibb Cave.
Day 7 :- Tibb Cave to Gyalpo.
Day 8 :- Gyalpo to Tilad Do and drive to Leh.
Day 9 :- Return from Leh.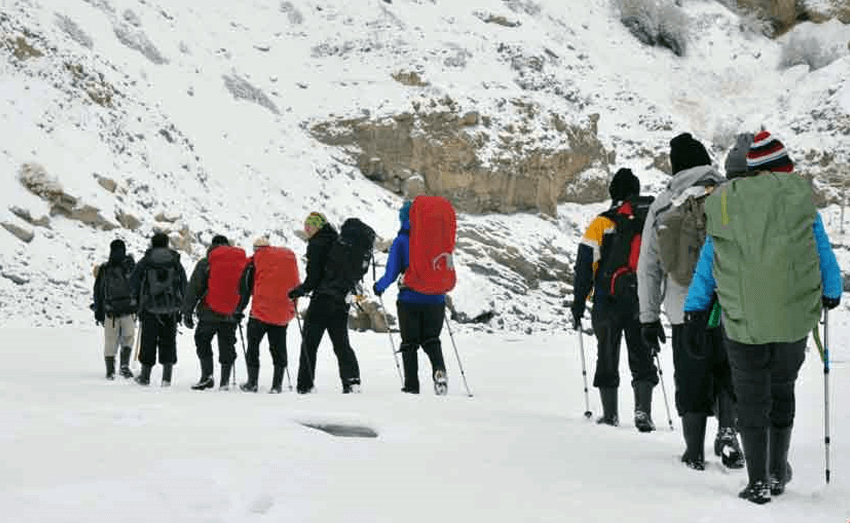 Detailed Itinerary
The biggest challenge of this day, and all the remaining days, is to get out of the warm toasty sleeping bags and go out into the giant freezer outside; but the steaming cups of tea being served provide ample motivation.

Today is a long walking session, about 12 km, on the Chadar.

The trek leaders from LIFE on the PLANET LADAKH give a briefing about the day, and give tips on how to walk on the Chadar.

Depending on the weather, the Chadar can assume various forms.

It can be a cold and hard surface of slippery ice, or it can have a dusting of snow over it, providing a good grip.

The ice can be thick or thin, and its best to keep closely following the guide.

The locals, it appears, have a sixth sense as to where exactly to step on the Chadar. At places, it might be necessary to wade through ankle deep water, or climb on the cliffs at the side of the river.

Eventually you get used to walking on the Chadar, which looks like a cross between gliding and skating.

Mid way to Gyalpo, the porter-cum-cooks prepare hot bowlfuls of soupy noodles for lunch.

It is important to keep up a decent level of fluid intake.

Nothing makes you adapt to the conditions faster than nicely circulating blood in your system.

After passing Shingra Koma, you reach the camp-site for the day at Gyalpo, where the tents have already been pitched by the porters.

The Gyalpo campsite is at a bend in the river, surrounded by high peaks and walls of rock-faces which almost look man-made.

All that is left to do is to soak in the views, have an early dinner and call it a day.
Summary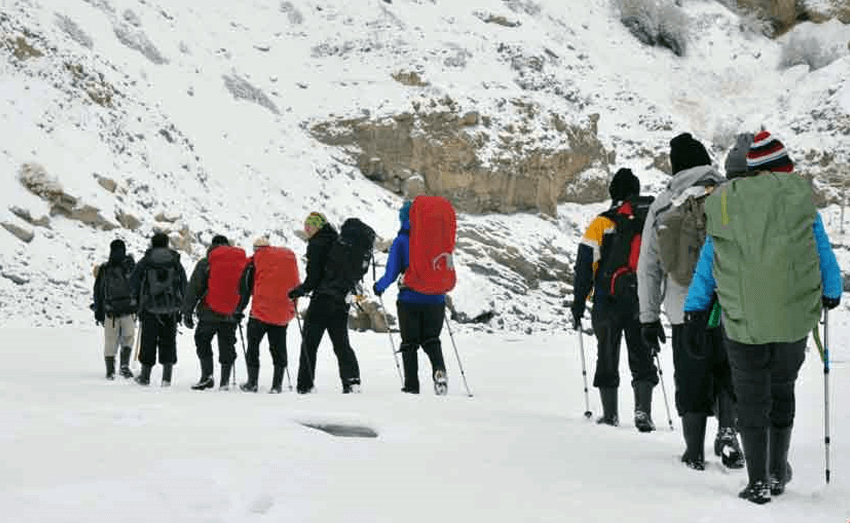 Service Type
Company Name
LIFE on the PLANET LADAKH
,
himis complex, zangsti road
,
Leh
,
Ladakh
-
194101
,
Telephone No. 09419684750
Area
Description
Tilad Do/Gyalpo/Gyalpo camp/Tibb Cave/Naerak camp/Naerak/Tibb Cave/Gyalpo/Tilad Do