General
Day 01: Drive Leh – Spituk – Leh- Shanti Stupa – Leh Palaceh a full day tour in and around Leh, visiting such as Samkar monastery, Shanti Stupa and Spituk. Level of activity on this day has deliberately been kept low so as to enable our bodies to complete the acclimatization process. Overnight at hotel in Leh.
Day 02: Drive Leh – Stok – Matho – Leh Morning after breakfast, drive to Stok. Stok village is 10 km south from Leh, situated on the West bank of the Indus river. This is the royal palace dating from the 1825 when the king of Ladakh was invaded and deposed by the Dogra forces. The Palace museum is a showpiece for the royal Thankas (fresco paintings), royal crown, dresses, coins, precious stones and turquoise head dresses. After visiting Stok Place, drive to Matho village. Matho monastery is the only monastery of Saskyapa order of Tibetan Buddhism in Ladakh, built on hill top with splendid view of Indus valley, by Great Lama Tungpa Dorjey in 15th Century. On 15th day of 1st month of Tibetan calendar, two oracles make appearance during the two days monastic festival. People from all over Ladakh and outside of Ladakh comes to visit the festival and for blessing from the Oracles. After the visit drive return back to Leh. Overnight at hotel in Leh.
Day 03: Drive Leh – Thiksey – Hemis – Rumtse (80 km) Morning, after breakfast, drive to Rumtse that is located at a distance of 80 km from east of Leh. Today, your whole journey will be in the car on Leh-Manali Highway. En-route visit Thiksay monastery, 20 km east from Leh. This monastery is the oldest monastery of Gelukpa Sect of Mahayana Buddhism in Ladakh. The great Lama Paldan Sherap built in 14th century. Inside the monastery you can see the big statue of the Matriya Buddha (Future Buddha) and wall paintings, Thankas (fresco paintings), various statues of Boddhisattvas and sacred shrines. After visiting Thiksay monastery, drive to Hemis monastery by crossing Indus River at Kharu village towards the south. Hemis is located 25 Km from Thiksay. The great Mahasidha Stagtsan Raspa along with great ancestor Singe Namgyal built this biggest monastery in 16th century. After visiting this monastery, drive back to Kharu and then continue your journey towards east on the Highway. Have Lunch at Upshi. Take Leh-Manali highway up to Rumtse village. En route you find several remote village of Leh Distric such Gya, Meru. After Gya village, arrive at Rumtse. Overnight at camp in Rumtse village. (4160m)
Day 04: Trek Rumtse – Chorten Sumdo (4 ½ hrs) After breakfast start your first day trek through beautiful color gorge. After few minute of walking from camp, we cross the first River and walk along another riverside and continue along the left side. Again cross the same river towards the right side and continue along the left of the valley. Easy walk up to the Sumda Chenmo. Greenery and beautiful camping site with number of Marmots. Overnight at Camp. (4520m)
Day 05: Trek Chorten Sumdo – Kyamari-la (5180m) – Mandalchan-la (5170m) – Titsaling (6 hrs) Start your trek earlier to cross Kyamari-la and Manba-la passes. Easy walk for one hour then ascend towards Kyamari La (5180 m). From the top of the pass you can see the gorgeous view of the chain of Kangyatse Snow covered peak (6400 m) and the chain of Indus valley. After crossing this pass, take right hand side and descend towards the summer camp. Then again easy ascend to the Mandalchan-la pass (5170 m). From this top, you have fantastic view of Defferent Mountain with picturesque white peaks. Then descend up to the camp. Overnight at camp. (4950m)
Day 06: Trek Titsaling – Shingbuk-la (5230m) – Pangunagu/Tsokar Lake (6 hrs) Today, you have only one pass to cross. After breakfast, start ascends towards the Shingbuk-la pass (5230 m). From the top, you can see the panoramic view of Tsokar Lake, surrounding mountains and the Rupshu valley. At the end of the valley, you able to see wild Ass (Skyang), turn right side and ascend for 20 minutes. Here you can see the full view of the Tsokar Lake and winter camp of nomad people of Changthang. Overnight at camp. (4590m) Tsokar Lake is approximately 95 km. northwest of the Tsomoriri Lake at a height of (4,590m). It is also called "White Lake" because of the salt deposited around it- this is because there is no outlet from the lake which makes the water brackish. In ancient times, the salt from the lake used to take out and sell it all over Ladakh and Kashmir by the local nomads known as the Changpas. Tsokar Lake is breeding grounds for a variety of birds among them the bar-headed goose, the great crested grebe, the brahmin duck and the brown headed gull.
Day 07: Trek Panganagu – Nuruchan (5 ½ Hours) Today you have easy trek along the Lake on right side. On the way you can see many birds and Wild Ass (Skyang) of Ladakh and Tibetan plateau. After leaving the lake behind, you turn towards right side and enter the Nuruchan village with beautiful camping site near the stream. Overnight at camp. (4660m)
Day 8: Trek Nuruchan – Horlam-la (4900m) – Rachungkaru (4 ½ Hours) Today you have small pass Horlamla (4900m) to cross. It is easy ascent and takes 50 minutes. After crossing the pass you reach at Rachungkaru where you find nomadic camp of Tibetan refugees. In Rajungkaru, you have attraction with nomads and can see the life style of nomadic people. In this area they have plenty of Yaks, Sheep and Pashmina Goats. Overnight at camp. (4900m)
Day 9: Trek Rachungkaru – Kyamayuri-la (5430m) – Kartse-la (5380m) – Gyama (6 hrs) From the camp you have walk through the camp of nomadic people. From nomadic area stick ascent to Kyamayuri-la (5300m). It is easy to ascend and it takes about more than one hour to reach at the top of the pass. From the pass; you can see splendid landscape, Tsokar Korzok area. Easy descend to the summer pasture of Tibetan refugee camp, called Gyama Burma. And on the right side there is another small pass Kartse-la (5000m), cross and easy descend then arrive in Gyama, nomadic camp. Beautiful camping site, Overnight at camp. (5180m)
Day 10: Trek Gyama – Yarlung Nyau-la (5440m) – Korzok (7 Hrs) Morning, after breakfast continue trek to Korzok. Today we have one pass to cross. Very easy ascend right from the camping up to the top of the pass Yarlung Nyaula (5440m) Continue along the small stream towards north-east in the valley and it takes one and half hours to reach at the top. Steep easy descend and then arrive at Korzok Phu (Nomadic camp). You still have more than 30 minutes of trek from here, pass the Korzok phu and continue along the small river up to Korzok with Tsomoriri Lake. Arrive at camp. Afternoon, if time permits then visit Korzok Monastery or have enjoyed short hike around the Lake. Overnight at camp. (4620m) Tsomoriri Lake located in the Changthang (northern plains) area, is a High Altitude Lake with an altitude of 4620m, is the largest of the High Altitude Lakes in the Trans-Himalayan biogeographic region, entirely within India. It is 23 km. long and 4 to 5 km. wide and is hemmed between Ladakh in the North and Tibet in the east and Zanskar in the west; the Changthang plateau is the geographical setting with snow peaks that provides the source of water for the Lake. Accessibility to the lake is limited to summer season only. Tsomoriri Lake is also breeding grounds for a variety of birds among them the bar-headed goose, the great crested grebe, the Brahmin duck and the brown headed gull.
Day 11: Karzok -Kiangdam(6 hrs) Today we will trek along the magnificent lake of Tsomoriri as far as Kyangdam. You will see some rare species birds, like black naked crane, Brahmin duck and many more migrant birds. While capturing awesome scenic beauty of changing colour of the lake, continue easy trek always on the vast plateau. Nice Campsite near the lake across the meadows. Overnight at camp. (4550m)
Day 12: Trek Kiangdam – Nurbo Sumdo (6/7 hrs) Morning; after breakfast, leave camp for Norbu Sumbo. Leaving behind the lake you continue easy and gentle trek over vast plateau. Today you see some wild animals, like Skyang (Wild ass) and pass across Tibetan nomad's camps settled across the beautiful meadows near beautiful spring water. Good and nice campsite across meadows with clean water. Overnight at camp. (4490m)
Day 13: Trek Nurbo Sumdo – Umlung (6 hrs) As usual after breakfast, you start easy and smoothly the trek upon the plateau and then enter into a splendid gorge. Then cross the Parang River that is the frontier between Lahoul -Spiti and Ladakh regions. Now you are in Lahou-Spiti region, the forgotten sister of Ladakh. While enjoying the spectacular and enchanting view of landscape, continue easy and gentle trek along the downstream Parang River as far as campsite across meadows. Overnight: camp near Parang River. (4540m)
Day 14: Trek Umlung – Dakpo Phirtse (7 hrs) Today you have several crossing of river during the day along the same gorge with gradual ascending. The landscape change as you trek and enter in another region of the Himalaya. Today you see as many as marmots and better chance of Himalayan mountain eagles. Overnight: camp on the riverside across the meadows. (5050m)
Day 15: Trek Dakpo Phirtse – Parangla (5580m) – Jukstok (6 hrs) Today you cross one pass known as Parang La (5580m). From the camp gradual ascend for an hour then walk on the glacier. You have to be careful with craves time to time up to the top. From the Parangla, take pleasure of splendid view of awe inspiring and marvelous landscape of Spiti valley and its surrounding spectacular towering mountains. Cross the pass, then gentle steep descend for an hour as far as campsite across greenery patch. Overnight: camp near small spring water. (5050m)
Day 16: Trek Jukstok – Thalta – Kiber (6 hrs) Today the trek is easy compare to other days. Morning after breakfast, you start easy and gentle trek with steep descent with awesome landscape as far as Small River, then follow the river for two hours. Then enter into another enchanting valley, from here ascend up to the camp. Campsite: near spring water. (4250m)
Day 17: Drive Kiber – kie – Losar (130 kms / 5-6hrs) Morning after breakfast, continue short and easy trek with gradual ascent for an hour, then easy descend down as far as river. Cross the river and gradually ascend up towards beautiful and charming Kibber village Kiber. Kibber village is one of the highest motor-able villages in the world. It is situated in narrow splendid valley surrounded by spectacular and marvelous huge mountains from all sides. Surrounded in summer by lush green fields, Finish you trek in this beautiful and charming village and then drive to Losar via visiting Kie Gompa. Kie monastery founded, on hill top with splendid view of the enchanting landscape, by Bromstan in 11th century. After the visit, drive to Losar. Losar village is considered to be the first inhabited village in the Spiti Valley, located at an altitude of 4,085m, on the way to the main town of Kaza. Overnight at hotel in Losar. (4080m)
Day 18: Drive Losar – Manali (152 kms / 8 hrs) Morning after breakfast, drive to Manali. Today you have long journey with spectacular and splendid view of different enchanting valleys and landscape. Overnight at hotel in Manali.
Summary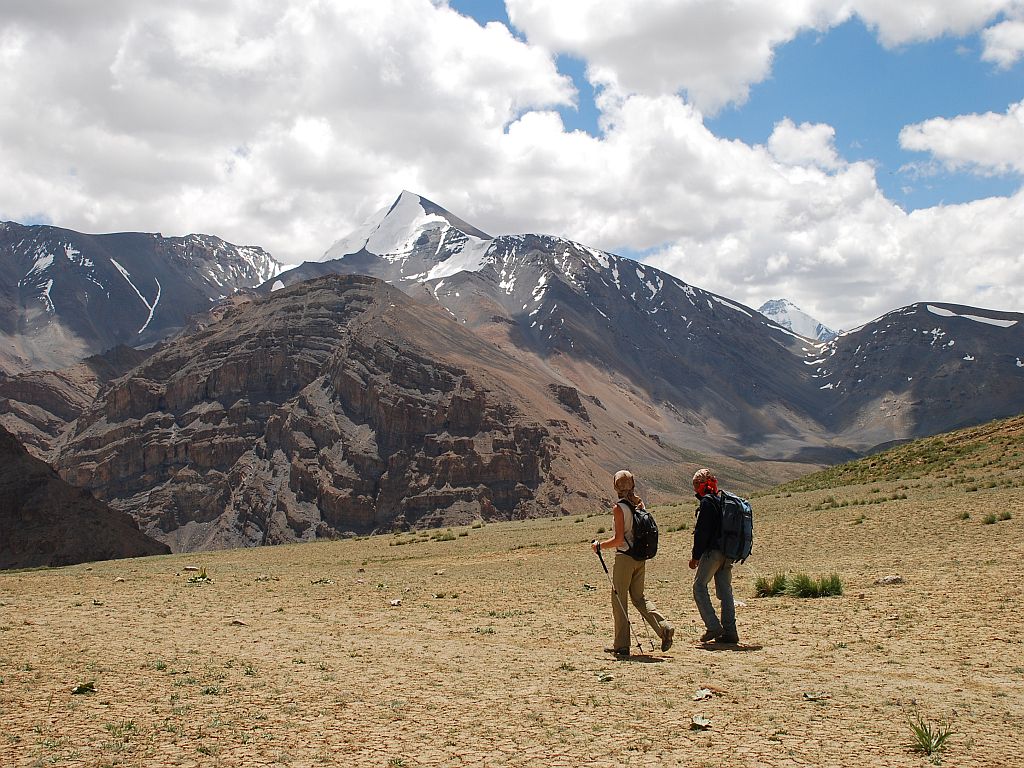 Service Type
Company Name
LIFE on the PLANET LADAKH
,
himis complex, zangsti road
,
Leh
,
Ladakh
-
194101
,
Telephone No.09419684750
Area
Description
Rumtse/Chorten Sumdo/Kyamari-la/Mandalchan-la/ Titsaling/Shingbuk-la/Pangunagu/Tsokar Lake/Nuruchan/Horlam-la/ Rachungkaru/Kyamayuri-la/Kartse-la/ Gyama/Yarlung Nyau-la/Korzok/Kiangdam/Nurbo Sumdo/Umlung/Dakpo Phirtse/Parangla/Jukstok/Thalta/Kiber